How to call telephone? Maybe it's very simple: pick up the phone and dial the numbers on the phone's keyboard.
If we can make a phone call when pick up the phone without touching the phone's keyboard? Yes, we can.
Now introduce how to generate Dual-tone multi-frequency signaling using arduino.
When use this, we pick up the phone and put the speaker close to the microphone. Send the telephone number needs to be dialed through the serial port, then wait for a moment, the phone will be dialed successfully.
Extended usage:
Drivable switch simulates phone off-hook event. Dial using this circuit, then control voice module (WT588D ect.) according to the event by arduino. It can complete a whole automatic dialing machine, which can be used for making alarm or telephone reminder.
Material list:
1.arduino board *1;
2.speaker *1;
3.100 ohm resistance *1 (100 ohm ~ 1 Kohm optional);
4.1uF capacitance *2 (0.1uF~10uF optional).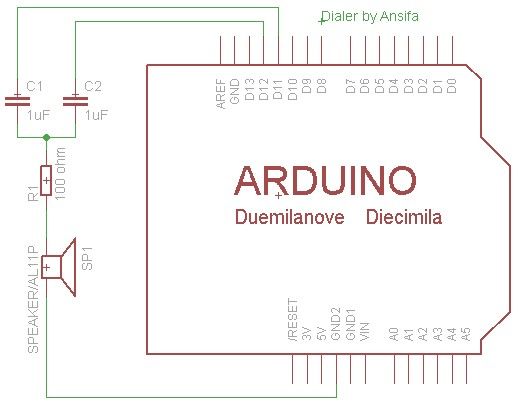 Code:
1. Down "Tone" library, then decompress to "arduino-0022\libraries" folder.
The characteristic of this "Tone" library compared with its own is that it can output different frequency waveforms through more than one pin at the same time, but its own only through one pin in a period of time.
2. Download the code below into arduino 0022.
Code: Select all

#include <Tone.h>

String Phone_Number = "";
int i = 0, mark = 0;

//Define freq1 and freq2 for Tone's example, define the Dual-tone multi-frequency signaling.
//DTMF keypad frequencies, see: http://en.wikipedia.org/wiki/Dual-tone_multi-frequency_signaling
Tone freq1;
Tone freq2;
const int DTMF_freq1[] = {1336, 1209, 1336, 1477, 1209, 1336, 1477, 1209, 1336, 1477};
const int DTMF_freq2[] = {941, 697, 697, 697, 770, 770, 770, 852, 852, 852};

void setup()
{
Serial.begin(9600);
//define D11 and D12 pin
freq1.begin(11);
freq2.begin(12);
}

void loop()
{
//read the datas of serial port, which make Phone_Number string.
while (Serial.available() > 0)
{
Phone_Number += char(Serial.read());
delay(2);
mark = 1;
}
//display DTMF audio, the phone number is based on Phone_Number, continuous time is 200ms, Interval time is 300ms.
PlayDTMF(Phone_Number, 200, 300);

//If get the phone number, clear the Phone_Number and reset mark.
if(mark == 1)
{
Phone_Number = "";
Serial.println();
mark = 0;
}
}

/*
DTMF function
Call format: playDTMF(digital(0~9), continuous time)。
*/
void PlayDTMF(String Number, long duration, long pause)
{
//If the input number is empty or the continuous time is not positive or the pause time is not positive,
//stop implement and return to main program.
if(Number.length() == 0 || duration <= 0 || pause <= 0) return;
//Separate the Number
for(i = 0; i < Number.length(); i++)
{
//If Number is 0~9 digital character,
if(Number[i] >= '0' && Number[i] <= '9')
{
//its ASCII minus '0', get true digital.
Number[i] -= '0';
//output through serial port
Serial.print(Number[i], DEC);

freq1.play(DTMF_freq1[Number[i]], duration);

freq2.play(DTMF_freq2[Number[i]], duration);
delay(pause);
}
}
}
Physical diagram: