This is an Arduino Shield for SM5100 quad-band GSM/GPRS module. The Cellular Module is included.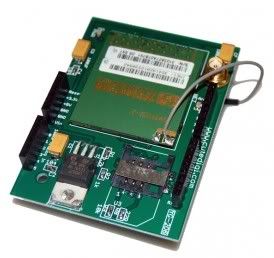 Two jumpers can be used to select if the SM5100 module is talking to soft serial port, serial port of arduino, or USB.
J1 and J2 are used to choose how RX/TX of SM5100B is going to connected to Arduino.
RX/TX is the RX/TX of SM5100B module.
MTX/MRX is the TX/RX of Atmega328.
D3 and D2 are the I/O of Atmega328 if soft serial is used.
Connect RX to MRX, and remove atmega328, so USB port of arduino can be used to directly to talk to SM5100B.
Connect RX to MTX, and keep atmega328, so SM5100B can talk to the MCU.
USA providers are all on 850/1900Mhz and pratically all the rest of the world uses 900/1800Mhz.
Solid SM5100B GSM/GPRS module:
a miniature, single-side board, quad-band GSM 850/EGSM 900/DCS 1800/PCS 1900 module, ready for integration in various kinds of Fix wireless phones and other wireless devices
.
shopping:
http://www.soliddepot.com/quadband-gprsgsm-shield-for-arduino-cellular-module-included-p-129.html